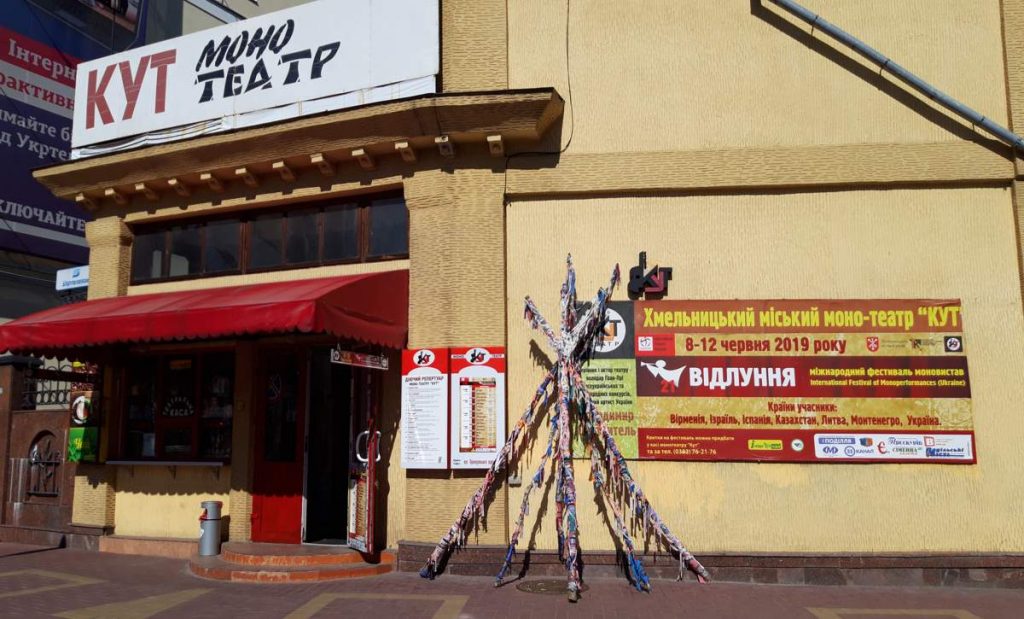 I came into the world on January 13, 1953, in the small town of Horodyschi, located in Cherkasy region. I was brought into this world by my mother, Neonila Pozhar, who worked as a chief accountant throughout her entire life. Her father's name was Yalesiy, and he was the station manager at a railway station. We had a solid house, a barn, a cellar, a yard, a well, a garden for harvest, flowers, raspberries, lilacs, and walnut trees… All of this was at the crossroads of two roads. At the KUTKA!
My father was named Petro, and he was originally from Mliyiv. According to the memories of those who knew him, he was a person of boundless kindness and a skilled handyman. This was something I later confirmed through my own experiences. Additionally, in his free time, he conducted weddings and played the accordion brilliantly. When I was three years old, he decided to turn me into a music stand. Holding sheet music in front of me, I subconsciously absorbed melodies of waltzes, tangos, foxtrots, and polkas, which eventually sparked my desire to create my own melodies and songs.
One day, I attended a solo concert by a guitarist at the Culture and Arts House, and I was so mesmerized by his performance that my temperature rose. Upon returning home, I removed a board from the wall where vegetables were chopped, hammered nails into it, strung wires, and told my mother that I would be spending the night in the summer kitchen… and played! I played all night long! Until I fell asleep… I woke up to my mother's scream. Seeing two puddles of blood on the table, with my hands lying in them, she grabbed that "instrument" and smashed it to pieces against the walnut tree. I cried out in frustration! I ran across the road to Grandma Yavdokha's, got a larger board with a larger ear, hammered nails into it again… In short, the next day, seeing that there was nothing that could be done with me, my mother managed to find me an old seven-string guitar. Oh, the joy knew no bounds!
Also, one time, coming home from school, I heard the sounds of a guitar through an open window. When I entered the house, I froze, because I saw and heard something I had never seen or heard before. My mother was sitting and playing classical music on the guitar!
It's a pity that when I was only four years old, my parents, Petro and my mother, divorced. It's a pity… But I find solace in the fact that they were both kind-hearted people, and I constantly interacted with my father, who taught me many things while working as a club manager and a cultural and mass events organizer at the Cherkasy health resort. Over time, my mother remarried Uncle Vasyl, who could twist a walnut twenty times on one hand, with his legs at an angle. And then, my little sister Natasha was born. After graduating from the Kyiv Higher University, she was assigned to Riga as an economist. As for me, after tumultuous and youthful years, I enrolled in the Dnipropetrovsk Choreographic School. Upon completion, in 1974, I became a student at the Karpenko-Kary Theatre Institute in Kyiv, majoring in drama and cinema. After finishing my studies, I was invited as an actor to the Kyiv Young Spectator Theatre.
About The Young Viewer's Theater…
And then came the unique 7 years of theatrical life. Rehearsals, performances, tours, supporting roles, and leading roles! The unforgettable years spent with a young and talented team that was miraculously assembled by the chief director of The Young Viewer's Theater (TYVT), Mykola Merzlikin. What a delight it was to perform alongside such vibrant partners as Lera Chaykovska, Vitaliy Savchuk, Oleksandr Hetmansky, Serhiy Ozyryanyy, Bohdan Beniuk, Hryhoriy Hladiy, and actors of the older generation. Until the year 1985 arrived, bringing its social and political upheavals!
Nikolai Merzlikin left the theater, and with him, the best actors departed, moving to other theaters in search of a better "repertoire policy." To counter the outdated forms, the director of TYVT and I, Yevhen Perebynos, decided to create the Kyiv One Actor Theater. And in 1985, the solo performance "Two Hundred and Ten Steps" was staged. This work was presented at the Artist's House, and everything went fantastically, but the authorities did not support the idea. As a result, Yevhen left TYVT and joined Ukrkonsert, creating the famous "Krolyky" group, while I was invited to the Chernivtsi Regional Philharmonic as an actor and the head of the Experimental Drama Ensemble (EDA).
Three years of creative and inspired work with a young team followed. With the touring satirical show "Despite the Faces…," we traveled across the entire Soviet Union at that time and eventually arrived in Khmelnytskyi. Here is where the turning point in my life occurred! A conversation took place with the director of the philharmonic, Viktor Paseka, and the art director, Anatoliy Horpinchuk, regarding my long-standing dream to create a one-actor theater. After showing a segment from the solo performance "Two Hundred and Ten Steps," I was invited, along with my friends-technicians Yevhen Raketyansky and Viktor Vlasov, to the Khmelnytskyi Regional Philharmonic. The goal was to establish the Philharmonic Monoplay Theater "KUT." And so it happened!
Next came rehearsals, performances, tours, festivals, competitions, and awards. The Prize of Audience Sympathy at the first "Chervona Ruta – 89" festival. Victory at the first International Monoplay Theater Competition in Perm (1990). Victory at the All-Ukrainian Festival of Author's Song "Oberih – 92."
And then came the pivotal moment for change with the proclamation of Ukraine's Independence! These very factors provided me the opportunity to announce the creation of a distinct urban monoplay theater – "KUT". In February 1992, the city council session resulted in the establishment of such a theater. Located in the city center, equipped with an intimate chamber hall, appropriate workshops, and a staff.
Winter. Day and night. A heap of dreamers tirelessly crafted the history of KUT. The transformation of a small documentary film theater into a chamber dramatic one-actor theater was underway. Everyone believed in this idea! Albin Tarchevsky, Yevhen Raketyansky, Hryhoriy Labay, Oleksandr Suprun, and even the former mayor of the city, Mykhailo Chekman, who did everything to ensure KUT opened on the planned day and time. And that day came…
The year 1993! On August 24, Independence Day, the first theatrical season of the Khmelnytskyi Municipal Monoplay Theater "KUT" was launched. The inaugural performance was the monodrama "Cursed Years," based on the works of repressed poets. The play enjoyed tremendous success with the audience, and the theater became a unique gem for the residents of Khmelnytskyi and its visitors for many years.
In 1994, the opening of the Second Theatrical Season took place with the premiere of the monodrama "Poet i Kat" ("Poet and Executioner"), based on a play by Khmelnytskyi's own Bronislav Hryshchuk. In the same year, I established the All-Ukrainian Monodrama Festival "Rozkuttia" (The Unveiling), which over the following 19 seasons attracted actors, poets, musicians, bards, and masters of the original genre, all of whom gifted the audience with their solo artistry.
Throughout all these years, "Rozkuttia" saw participation from outstanding stage masters such as B. Stupka, O. Stupka, A. Rogovtseva, V. Zaklunna, M. Olyalin, I. Havryliuk, L. Serdiuk, L. Kadyrova, I. Bonitenko, V. Talashko, P. Beniuk, B. Beniuk, A. Khostikoiev, E. Neshchuk, I. Shvedov, V. Shchestopalov, V. Zavalniuk, K. Hnatenko, V. Solianyk, K. Stetsenko, S. Bedusenko, I. Zavadska, R. Faifura, Tr. Stas, A. Horchynskyi, O. Smyk, Z. Slobodian, E. Drach, V. Samaida, H. Lukyanenko, I. Bilyi, O. Bohomolec, I. Zhuk, A. Yeskov, O. Volodarskyi, Ya. Taksiur, V. Zhadankin, N. Burmaka, O. Koliada, A. Tsvid, O. Matushek, Y. Osetskyi, P. Hirnyk, I. Baidak, V. Mikhalevskyi, M. Lysaichuk, and others…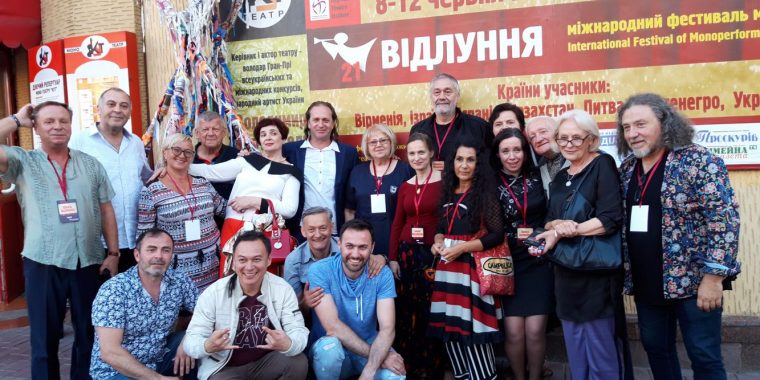 Пам'ятне фото учасників міжнародного фестивалю моновистав "Відлуння – 2019″
In 1995, the third theatrical season of KUT opens with the satirical monoshow "Salo in Chocolate." At the All-Ukrainian Humor and Satire Competition "Sea of Laughter – 95," for the Arkadiy Raikin Cup (Zaporizhzhia), this performance shared first place with Andriy Danilko (in his Verka Serduchka persona). Then, in 1998, at the first All-Ukrainian Humor and Satire Competition for the Andriy Sova Cup (Odessa), I was awarded the Grand Prix.
In 1996, the fourth theatrical season opens with the staging of my own play for children, "I Am a Clown!" This play received the "Mirror Prize" at the International Theater Festival in Trabzon, Turkey. For two consecutive years, the theater was engaged in continuous touring, connected with invitations to various festivals and competitions.
In 1998, the sixth theatrical season opens with the monomystery "Magiya Dushi" ("The Magic of the Soul"), based on the book "MAHA VIRA" by Lev Sylenko. In 2000, it becomes a laureate of the International Theater Festival "Christmas Mystery" (Lutsk). From 2000 to 2006, the theater created four monoperformances:
"Ін'єкція щастя" ("Injection of Happiness") – based on the play by Yevhen Kurman, (director – Y. Kurman).
"Акомпаніатор" ("Accompanist") – based on the play by Marcel Mitua, (director – O. Holotyuk).
"Словоспів" ("Word Melody") – inspired by the poetry of Yosyp Osetskyy, (director – V. Smotritel).
"Гоголь – реінкарнація" ("Gogol Reincarnated") – based on the play by Yevhen Kurmanan, (director – Y. Kurman).
At International Theater Festivals and Competitions, these works were awarded the titles of "Master of the Stage" and the holder of the "Grand Prix."
In 2006, I was honored with the title of "Merited Artist of Ukraine."
The years 2008 to 2010 were significant for me. In 2008, my son Bohodar was born. I collaborated with two unique directors: Yaroslav Melnychuk (staging of the historical monodrama "Mazepa" and Myroslav Hrynyshyn (staging of the monoplay "Щоденник збоченця" ("Diary of a Deviant"), based on the novel by V. Nabokov – "Lolita").
From 2012 to 2016, I delved into writing my own plays. I directed and performed them as an actor: "«Durman Kulky" – a monomusical for students of grades 4-6. "Не промовчи Шевченка у собі..!" (" 'Do Not Keep Silent about Shevchenko within Yourself!'") – a bard's confession, and "«Птах Душі» ("Bird of The Soul") – the life and creativity of Vasyl Stus.
In 2016, my beloved wife Larisa passed away after a serious illness… Horror! In the same year, due to significant contributions to the development of dramatic monodrama and a high level of acting, I was honored with the title of People's Artist of Ukraine.
…all desire to create vanishes…everything turns gray…various thoughts crawl into my mind…wandering at night…and only my son brings me back to the meaning of life. Over the past six years, emerging from depression, audiences have witnessed four more of my original works: "Smotrytel Nochi" – a monomusical featuring renowned musicians: V. Viodomenko, Yu. Starushkina, O. Kryzhanivsky, O. Karachun. "The KUT Stories" – an actor's anecdote. "Vidliudko" – inspired by Ivan Franko's novella " Сойчине Крило," (@The Falcon's Wing") and "I'm already Only 70!" – a confession of a mono-director about a mono-actor. It was precisely this performance that marked the end of the creative journey of the stationary municipal mono-theater "KUT."
And a Word About Vidlunya...
From 2008 to 2014, I served as the unchanging director of the International Monodrama Festival "Vidlunnya." The president and artistic director of which was and still is Nina Mazur. Fantastic days! Irreplaceable family evenings of "Vidlunnya of the Day." It's heartening that my organizational work was recognized by the Secretary-General of UNESCO, S. B'yankone. This festival welcomed participants from more than 26 countries around the world!
And further about projects… I founded artistic projects such as "City's Young Elite," "Veteran," "Guest of the KUT," and served as the director and director of the "I Am a Ukrainian!" Festival. Its founder was and still is Emilia Nimtsovic. A medical professional, a devoted woman to Ukraine, with heart and soul.
And About the Projects...
I was the founder of several art projects: "The Young Elite of the City", "Veteran", "Guest of Kuta", and the director of the festival "I am a Ukrainian woman!" Emilia Nimtsovych was a founder of the festival. A doctor, a woman devoted to Ukraine with her soul and heart.
 In 2022, COVID-19 and the war brought the theater to the brink of survival. Restrictions on audience attendance, prohibitions to be in the theater during air raid sirens, free and charitable performances for internally displaced persons – all of this led to financial hardship. The theater itself faced the threat of closure. I began seeking a way out of this predicament. Numerous performances within the walls of "KUT" at hospitals, military bases were charitable acts and naturally didn't bring profit.
And then the "journeys" began! With my 14-year-old son, Bohodar, as the sound operator (as adult technicians were prohibited from traveling abroad), along with Oksana Petrova, my driver and reliable assistant, we started performing for refugee mothers with children who had found themselves abroad. In motels, schools, arenas in Slovakia, the Czech Republic, Poland. These performances were like oxygen reviving their lives. But the monotheatre "KUT" itself, as it were, kept drifting away from me. Lonely, cold, abandoned – it found warmth only in the devotion of "Kutivtsi" people (theatre staff) and their faith in VICTORY!
The number of refugees and internally displaced persons abroad continued to grow. And then fate brought us to London, to the Ukrainian Social Club, where we staged performances for both adults and children. When your native language sounds abroad, conveying the audience's feelings is almost impossible! And then speeches, songs at protest events during the London Euromaidan, and performances to raise funds for supporting the Ukrainian Armed Forces. New acquaintances! Friends! Plans!
But I was constantly drawn back to "KUT" like a magnet! And I flew! From London to Khmelnytskyi to stage planned performances at the theatre, and then returned to Britain. All this upheaval, nervousness, lack of funds, and on top of it all – age, health, the education of Bohodar in a British school, the end of my contract (on February 27, 2023) – all these factors pushed me to consciously submit a letter of self-discharge. That's how it happened!
The Final Monoperformance...
"I am Already Only 70!" Applause… flowers… gifts… friends' speeches… The next day, the mayor of the city, Oleksandr Symchyshyn, spoke in the session hall of the city council… deputies' ovations… flowers… suddenly, everything became a thing of the past! Thirty years of acting and theatre management – it's not an easy path for one person!
But everything has its end! And every end is the beginning of something new and unexplored. I decided not only to support my son in his education abroad but also to introduce the world to the phenomenon of the WANDERING MONO-THEATRE "KUT"! With its props, costumes, equipment, and most importantly, with a 30-year repertoire legacy. This comprises more than 15 various genre monologues in action. The performances are presented in both Ukrainian and English.
P.S. Grateful for the opportunity, I humbly bow to all the inhabitants of the Corner, whom fate brought to "KUT" at various times, and who devotedly and patiently supported the "Kutoviz," (another name for the theatre) filling it with diverse artistic projects.
Executive Directors: Albin Tarchevsky, Nina Blazhnova, Mykola Shyrokyy, Oleh Chumachenko.
Accountants: Oleksandr Suprun, Hryhorii Voloshyn, Svitlana Kolodzinska, Iryna Kuchma, Halyna Ohilba;
Administrators: Roman Dibrova, Yuriy Tsykra, Oleh Chumacheno, Anatoliy Borschchenko, Oleksandr Bobrovnikov, Natalia Tarasova;
Technicians: Yevhen Rakityansky, Viktor Vlasov, Volodymyr Mulyar, Oleh Strykhar, Ruslan Bozhok, Oleksiy Biloousov, Volodymyr Balan, and two Dmytros;
Costume Designers and Props: Iryna Bohush, Olena Smotrytel, Natalia Biloousova, Valentina Rozsosha;
Supervisors: Ivan Avdiyevsky, Yuriy Tsykra, Anatoliy Deichuk, Oleh Chumachenko, Ivan Bokhanovsky.